Grattis Jette o Malin till tredje platsen i Connemara Cup, dressyr 2021! 
Ponnyn Big's Freestyle ( e Coosheen Finbarr  u Lofty Abigail) föddes hos Jette 2012. Välutbildad av Malin kom framgångarna tätt och har fortsatt in på 2022. Senast en seger i LA:1 , 68,3%.   Malin, som har passerat ponnyåldern, tävlar bland de stora hästarna. Malin är numera ägare till Freestyle.
Lofty Abigail ( Lofty Roderic – Lofty Abigail) produced some lovely foals for Jette Hansen. One of them is Big's Freestyle by Coosheen Finbarr.  For 2021 the pony was third in Connemara Cup, dressage , a cup for the most succesful connemaraponies. Her rider was Malin Sundberg, owner of Freestyle since some months ago. They compete in the big horses classes as Malin is over 20.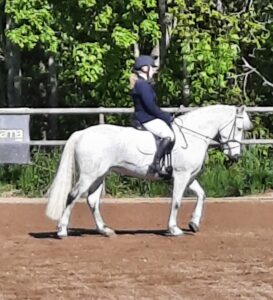 Photo:  Jette Hansen